The Coralville Public Library provides meeting room space for local non-profit organizations that serve the community in Johnson County.
Meeting rooms are available during the Library's open hours and in some cases, before the library opens and after the Library closes.
If you are interested in booking a meeting room, please take a look at the information below and our Meeting Room Use Policy, then call 319-248-1850 or email reference@coralville.org to make a reservation.
Each meeting room is unique. Please use the following information to help determine your meeting room needs.
14 tables
initial setup is a classroom style arrangement with 3 rows of 4 tables and two tables in the front of the room
has counter space with a sink
maximum capacity is 102 people
dimensions: 40' wide x 39' deep
6 tables
tables are arranged boardroom style
maximum capacity is 40 people, suggested capacity is 25 people
dimensions: 18' wide x 39' deep
14 tables
initial setup has the tables arranged along the outside walls of the room
has counter space with a sink
maximum capacity 162 people
dimensions: 56' wide x 38' deep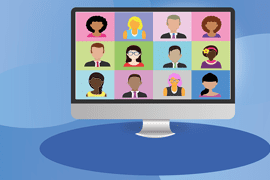 Each room has AV equipment available. Please ask reference librarians for help determining what type of equipment you need and what is available at the time of your meeting.
Extra tables are available upon request, depending on the availability of the other meeting rooms. In cases where all three rooms are booked, additional tables cannot be provided.
Call the Reference Desk, 319-248-1850, if you have questions about an upcoming meeting in the meeting rooms.
Call the reference desk. 319-248-1850, to ask about room availability.  Non-profit groups may have one scheduled meeting or event at a time.  
Limited audiovisual equipment is available for use in meeting rooms. Please see the Audiovisual Equipment Policy for more details.
Check the equipment you would like under the Meeting Room Confirmation Form's equipment list.  The form, with equipment request, must be received at least one week before your event to use equipment.  Equipment is not available on Sundays.
Microphone – standing
Microphone – wireless
Lectern – stand up
Lectern – table top
White board
Laptop Computer
Television & DVD/VHS player
Digital Projector
Transparency Projector
Pre-meeting Rotunda space
A/V setup Assistance
The City of Coralville offers a free 2-level parking lot for meeting attendees. Please encourage participants to park in the lower level lot, which opens directly into the meeting room corridor. Meeting Room participants will be asked to park in areas other than the two rows closest to the library entrance.