During the month of March the Coralville Ambassador Program (CAP) is hosting a can opener collection drive.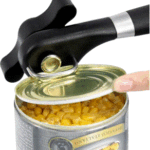 Bring new or gently used manual can openers to the Coralville Public Library front service desk during the month of March or bring to the Global Community Meal at the Library on April 1st, 2023.
Can openers will be distributed to House Into Homes
House Into Homes provides gently-used beds, furniture, and household items for families and individuals in Johnson County who are existing homelessness, domestic Violence, and other crisis situations.