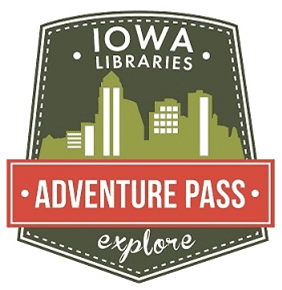 The Coralville Public Library is pleased to join other libraries across the state to offer free passes to attractions across Iowa with Iowa Libraries Adventure Pass.  All you need is your library card to reserve a pass. 
Blank Park Zoo (Des Moines) – Admits two adults (13+) and two children (ages 3 to 12).

Des Moines Children's Museum – Admits 4 children (Ages 1-10). There is no admission charge for those under 1 or over 10.

Figge Art Museum (Davenport) – Admits 2 adults and all dependents.

Greater Des Moines Botanical Garden – Admits 2 adults and 2 children.

History Center (Cedar Rapids) – Admits 2 adults and 2 children.

Reiman Gardens (Ames) – Admits 2 adults and 4 children (ages 1-18) living in the same household.

Science Center of Iowa (Des Moines) – Admits 2 adults and 2 children.
Adventure Pass is available to Coralville, Rural Johnson County, and University Heights residents 18 years or older with a valid library card in good standing.
Cardholder must present a valid photo ID and a printed pass (email on phone not accepted) to gain admission to an attraction.
Eligible card holders may reserve one pass per attraction every 365 days.
Passes cannot be used for special events at an attraction.
Check open hours of attractions before you reserve a pass.
Cancel your reservation if you cannot use the pass at the reserved time.  To cancel a reservation, call the Library at 319-248-1850.