Wheat pasted murals are being installed around Coralville this June to celebrate the City's "Rich History" and "Bright Future".
For Coralville's 150th Anniversary we will be wheat pasting large images from Coralville's Digital History Library onto seven buildings across Coralville in June.
Chongs Supermarket
Coralville Community Food Pantry
Coralville Public Library
Coralville Recreation Center
Iowa River Power Restaurant
Randy's Flooring Coralville
West Music Coralville
In June drive down 8th Avenue to see wheat pastings on home garage doors for the 8th Avenue Historical Walk.
In correlation with Coralville's sesquicentennial, local historian Rex Brandstatter will lead an 8th Avenue Historical Walk on June 11. 8th Avenue in Coralville (formerly Huston Avenue) has a plethora of history that is too rich not to share.
To show Coralville's "Bright Future" the City will be wheat pasting photographs of current students on the outside of Northwest Junior High, Kirkwood Elementary, and Coralville Central Elementary as part of an Inside Out Project Group Action.
We are looking for students who would like to participate in this project! Participation requires a permission form to be signed by a parent/guardian. Interested students will attend an event where their portraits will be taken and will also be invited to help with the installation of the photos in June.
Please join us at one of the following opportunities for photos:
May 25th at the Coralville Public Library, after school until 7 pm
June 1st at the Coralville Public Library Summer Reading Kickoff Event from 2-6 pm
Feel free to reach out to Ellen Hampe Alexander at ealexander@coralville.org or call the Coralville Public Library at (319) 248-1850 with any questions.
The Inside Out Project is a global art platform that helps communities around the world to stand up for what they believe in and spark global change locally. Group Leaders create their Actions by displaying large-scale black-and-white portraits of members of their community in public spaces, creating a work of public art. Since then, more than 400,000 people in 148 countries and territories have participated in the Project. Thanks to participants' donations, the Project has reached all of the continents, with over 2,300 actions created. Inside Out Actions have revolved around a range of topics such as diversity, community, feminism, racism, climate change, education, children's rights, and art. These installations are documented and shared online.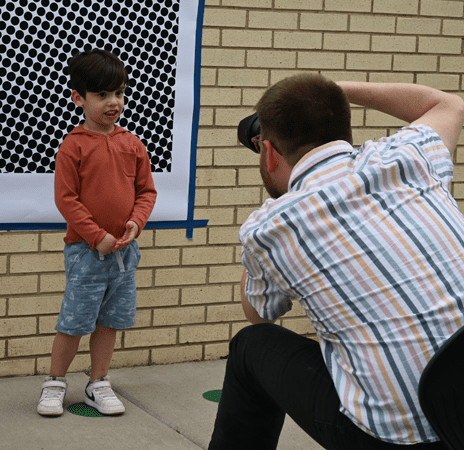 Wheat paste is an temporary biodegradable glue made from three simple ingredients: flour, water, and sugar. You may recognize it by another name: Papier-Mâché.  Wheat paste is used to create temporary murals by pasting large printed paper rolls to surfaces, such as buildings.  Wheat past murals tend to fall apart in 3-6 months, but can last longer or degrade faster depending on the weather.
Coralville's wheat pasting projects are being led by artist Isaac Campbell.