Local Libraries LIT: Ann Patchett
October 27, 2022 @ 6:30 PM
CDT
Free

Join Local Libraries LIT for a free virtual author event with Ann Patchett.  Register to watch from home, or join us at the Coralville Public Library for a viewing party in Meeting Room A.
𝗘𝘅𝗰𝗶𝘁𝗶𝗻𝗴 𝗡𝗲𝘄𝘀! Ann Patchett has asked her dear friend (and fellow writer/Iowa alum) Elizabeth McCracken to join in her conversation on Oct. 27. Elizabeth's new novel 𝘛𝘩𝘦 𝘏𝘦𝘳𝘰 𝘰𝘧 𝘛𝘩𝘪𝘴 𝘉𝘰𝘰𝘬 just came out. Don't miss this fantastic conversation!
This is the sixth virtual event in the series offered by public libraries in Johnson County, as well as the University of Iowa and Kirkwood Libraries with support from The Tuesday Agency.
Local Libraries LIT strives to grow a community which shines with diversity, equity, and inclusion.  This special speaker series is offered at no charge to participants. Donations are welcomed to help sustain and grow Local Libraries LIT.
Register at http://bit.ly/3wHgtPQ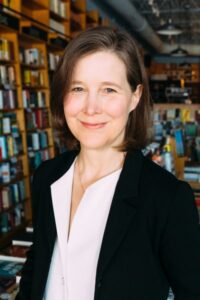 Ann Patchett is a celebrated author, devoted reader, and a champion of literary culture. She has written thirteen books and has been the recipient of numerous awards and fellowships, including England's Orange Prize, the PEN/Faulkner Award, and a Guggenheim Fellowship. In 2011, when the last of Nashville's bookstores had been shuttered, Ann declared, "I have no interest in living in a city without a bookstore." And so, in November of that year she opened Parnassus Books and has since become a spokesperson for independent booksellers. TIME named Ann one of the 100 Most Influential People in the World for her efforts on behalf of the literary community. Her books include Bel Canto, The Dutch House, State of Wonder, Commonwealth, and more.
These Precious Days: Essays is a deeply personal collection that reflects on home, family, friendships, and writing. A literary alchemist, Patchett plumbs the depths of her experiences to create gold: engaging and moving pieces that are both self-portrait and landscape, each vibrant with emotion and rich in insight. Turning her writer's eye on her own experiences, she transforms the private into the universal, providing us all a way to look at our own worlds anew, and reminds how fleeting and enigmatic life can be.
Related Events